Do you have a litter of puppies, not sure what to do?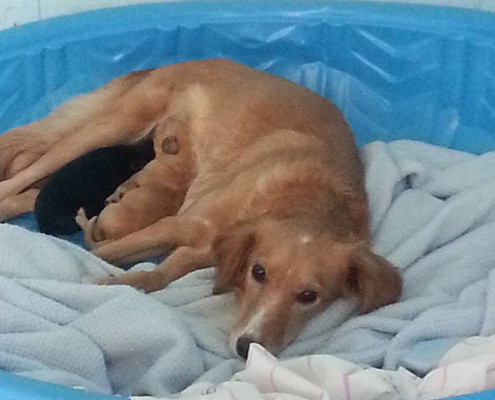 WE WILL SPAY THE MOTHER OF YOUR LITTER FOR FREE IF YOU SURRENDER THE PUPPIES TO US AND LET US FIND THEM HOMES!!

A litter of puppies can be a huge responsibility. Besides a huge expense. We can help! We are a NO-KILL shelter, so your puppies are guaranteed a life. And YOU will become part of the solution, and not part of the problem of over-population.
We will commit to finding the right home for every puppy in your litter. We only to homes we deem safe and appropriate for every animal in our care. We do a thorough application clearance before letting dogs out of our shelter. We don't want just a home for them, we want the RIGHT home. A furr-ever home.
We completely vet each puppy before they go to approved homes. This includes spay/neuter, all shots, microchipped and de-wormed.
Please consider this program first when you find yourself burdened with a litter of puppies. Call us and we will help you through this. We promise to take care of mom and the puppies.
Please don't allow your dog to continue breeding. Read the statistics below to understand the depth of the overpopulation problem in the U.S. We won't judge, we just want to help!!
Why Everyone Should Spay and Neuter Their Pets
THESE STATISTICS ARE VERY REAL AND YOU CAN MAKE A CHANGE
For every human born, 7 puppies and kittens are born.
One female cat and her offspring can produce 420,000 cats in 7 years.
One female dog and her offspring can produce 67,000 puppies in 6 years.
As many as 25% of dogs entering shelters each year are purebreds.
Approximately 61% of all dogs entering shelters are euthanized.
Approximately 75% of all cats entering shelters are euthanized.
An estimated 10 million dogs and cats are euthanized in United States animals shelters each year.
Millions more are abandoned, only to suffer from illness, starvation or injury before dying. There are not enough good homes for them all. This tragedy is preventable. By spaying or neutering our pets we can effectively and humanely end the companion animal overpopulation crisis.
Puppy Mills are Adding to Dog Overpopulation
As if there aren't enough unwanted animals in the U.S., there are puppy mills producing thousands, millions!! of puppies every year to sell for profit. So think about it. Millions bred, not enough homes, so millions are killed. See anything wrong with this picture? This is just one more reason to never have another litter of puppies on your own. Ever.